Asheville, North Carolina! One of the sweetest Southern cities I've had the pleasure of visiting. Here's everything you need to know for your next visit. 
One of your first stops in Asheville should be the Biltmore. This beautiful and historic Vanderbilt estate boasts its own winery, gardens and a 4 star inn. Tour the grounds and get a bite to eat while you're there. If you're still hungry, take a bite out of Southern Cuisine with the Eating Asheville food tour! Learn more about the history of the area, learn about up and coming restaurants and food trends, and more.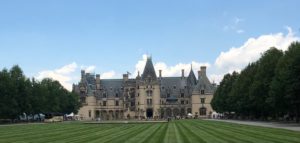 Asheville has a bustling art scene, so be sure to explore the 
River Arts District
. Every second Saturday, there are open sessions, classes, and art activities. It certainly won't be hard to find musical entertainment in Asheville! You can check their 
music calendar
 for weekly events, and there's even a guide on where to 
go dancing
. 
The second most popular destination after the Biltmore is the famous
 Appalachian Trail
. Stretching from Georgia to Maine, many of the trail's miles are right in North Carolina. If you're not much for wooded trails, explore Asheville's
Urban Trail
! This self-guided trail is not even two miles, and weaves you through the cultural and architectural history of the city.
Always remember my Three Golden Rules to Dress By:
1. Build Your Wardrobe with classic pieces.
2. Liven Your Wardrobe with fun novelty items.
3. Tweak Your Wardrobe with touches of color.
Feel good, and look even better!
-Bonnie