From the beautiful Sawtooth Mountains to the winding canyons, Idaho is a beautiful state to explore if you love the outdoors. Sun Valley, Idaho is a great town to vacation in during the summer.
The hot summer days and cool nights are a great escape from the humidity of the East Coast and the South. You'll have easy access to recreation, and activities such as horseback riding and camping. You can even rent a paddle-boat to explore Sun Valley Lake!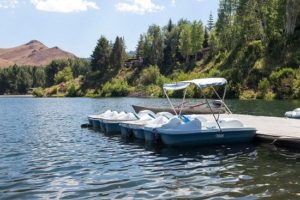 If you're feeling adventurous, do a little 
white water rafting
! It's a great way to stay cool in the summer sun. To wind down from all your outdoor activities, visit the
Zenergy Spa
 in Ketchum, complete with a health club and gym.
Another fun activity for the whole family is catching one of 
Sun Valley's Ice Shows
! See professional ice skaters performing amazing tricks on the ice. Visit the 
Sun Valley Calendar
 for a complete lists of the awe-inspiring art festivals, Wagon Days, and cultural events planned for summer 2019.
Whether you're hiking a trail in sun valley or wearing your resort wear to the spa in Ketchum, remember, it's all about style!
Always remember my Three Golden Rules to Dress By:
1. Build Your Wardrobe with classic pieces.
2. Liven Your Wardrobe with fun novelty items.
3. Tweak Your Wardrobe with touches of color.
Feel good, and look even better!
-Bonnie