Start taking notes, because there is so much going on!
Go to artsynergy.org for a very important auction to support the artists of Palm Beach County. It is taking place on May 29th, from 10 a.m. to 1 p.m. Check that out online for further information.  On May 31st, Ann Hampton Callaway will be having a concert to celebrate her birthday, and Tony DeSare is still doing a song each day on his YouTube channel – so much to enjoy.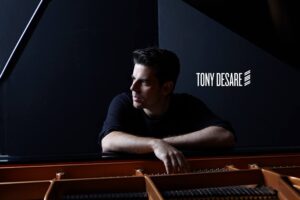 Billy Stritch is performing for Billy's Place, every Thursday night at 8 p.m., live on Facebook. Thesethconcertseries.com is another great live show online featuring Broadway's biggest stars on Monday, June 1st at 3 p.m.
Jim Caruso is having another Cast Party, Monday nights at 8 p.m. on YouTube – it's like being in Birdland! Rob Russell will be live at the Pelican Cafe May 31st.  On Friday nights at Cafe Centro, Gregg Jackson is back.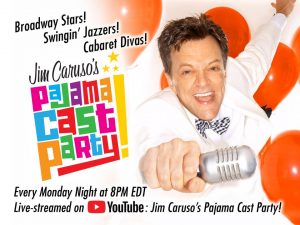 My Podcast Pick of the Week is Funny Over Fifty by Jane Condon. Yvette Norwood-Tiger is doing a live stream concert from her living room on Facebook at 7 p.m. this Thursday night.
Don't miss Bonnie's Fashion Buzz, my Facebook live series where I demonstrate how to style and accessorize! It's so much fun, and you'll learn all about color, style, textures, and so much more. Live on my Facebook page week days at 3 p.m. Eastern Time.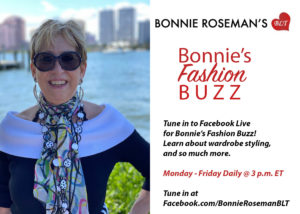 So whether you're watching an online concert, or venturing out to a park nearby, remember, it's all about style!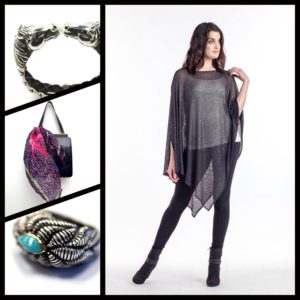 Always remember my Three Golden Rules to Dress by:
1. Build Your Wardrobe with classic pieces.
2. Liven Your Wardrobe with fun novelty items.
3. Tweak Your Wardrobe with touches of color.
Feel good, and look even better!
-Bonnie